About city
Opava lies on the river Opava in a fertile valley between the hills of Nízký Jeseník and the lowland Poopavská nížina. The city covers the area of almost 90 sq km with a population a little under 60,000.
Once a capital of Austrian Silesia, the city is an industrial and cultural centre of Czech Silesia, with its importance extending beyond the borders of the former district. Today Opava is the seat of Silesian University, several secondary schools, and many cultural and scientific institutions.
There are many historic buildings in Opava, a number of which are protected by the National Heritage Institute. The "White Opava", as it was called by Petr Bezruč, boasts beautiful parks and gardens, many of them situated on the perimeter of the city centre.
Coat of Arms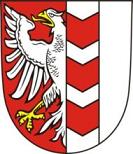 The coat of arms is a vertically halved shield. It features a half of a silver female eagle in a golden armour (a beak, tongue, and talon) in the left red field. The right silver field is split with three red inverted chevrons in the red half.
The oldest form of the Opava coat of arms dates back to 1289, when it was put on a seal. At that time it featured a Gothic gable with a stake and three chevrons one above the other. The colours are unknown, but we can assume they were red and silver, the colours of the crest of Opava nobles. This assumption is supported by a deed issued by Rudolf II on 24 November 1579, in which the emperor heard the request of the town representatives and established that the new "coat of arms is to be vertically split, with the right half red or ruby, and the left half white or silver, and there shall be three red or ruby chevrons pointing down in the left half of the coat of arms with the rest white or silver". Over time this prescribed form was forgotten, the silver half-eagle was replaced by a black Silesian female eagle, and the chevrons were replaced by waves. On 16 November 1895 a document issued by the Ministry of the Interior re-constituted Rudolf's decree.
Flag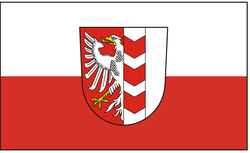 The Opava flag consists of two horizontal stripes, white and red, on which lies the coat of arms of the Statutory Town of Opava. The ratio of the length and width is 3:5, the size of the emblem is in the ratio of 3:5 to the width of the flag.
Logo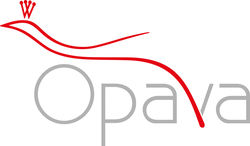 The logo of Opava visually and philosophically originates in two sources, one of which is historical, and the other characterizes the present. One source reinforces the other:
The legend of the origin of the name OPAVA – "Arguing over a peacock (Czech o páva)"
The play on words based on the name of the town – O...PAV...A (where the middle forms the word peacock)
For these reasons the symbol of peacock was incorporated to form a characteristic and unmistakable town logo.
The town logo has the following characteristics:
the town name (Opava)
the main symbol (stylized peacock)
a complementary symbol (crown – the symbol of the royal authority)
the colour scheme (used to this date and based on the Opava coat of arms)
red (accentuating, royal colour)
white (characterizes the "white" Opava)
silver, grey (luxurious, refined colour)
Geographic Data
mean altitude (town centre)
- 257 MASL
lowest altitude (river near Komárov)
- 236.5 MASL
highest altitude (Hůrka south of Podvihov)
- 529.8 MASL
49° 56´ North celestial latitude
17° 54´ North celestial longitude
Climate
average temperature + 8.2 ºC
average precipitation 640 mm
minimal temperature -35 ºC
maximal temperature +35 ºC